The Phoenix Holocaust Association sponsors and supports community Holocaust remembrance programs.  
We also record and publish stories of Arizona's Holocaust survivors and their descendants.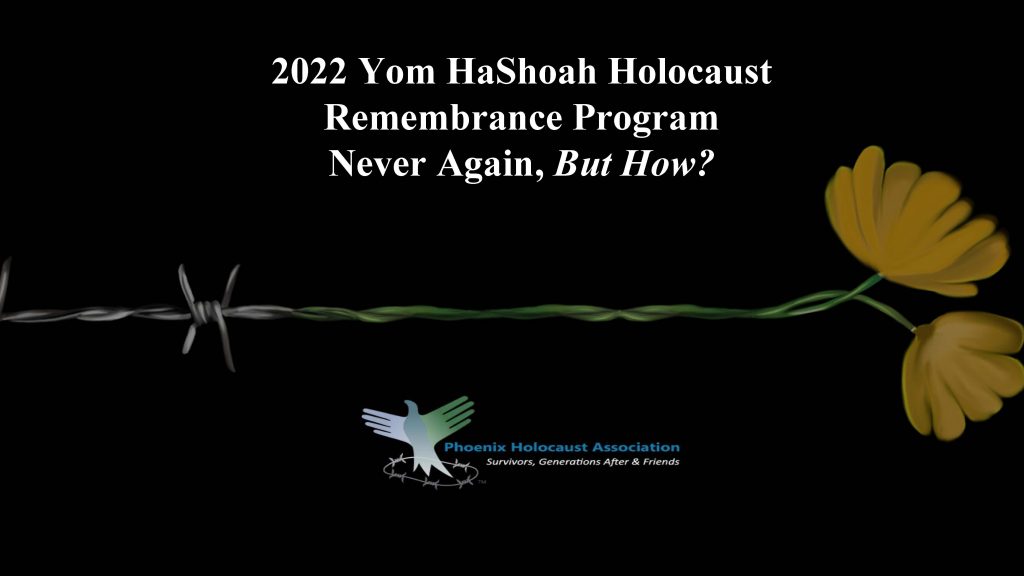 Press play to view the video
Press play to view the program
Yom HaShoah/
Holocaust Remembrance Day
PHA hosts the largest community-wide Holocaust Remembrance Day event in all of Arizona. Yom HaShoah is recognized each year in April or May, coinciding with the 27th Day of Nisan (on the Hebrew calendar) marking the beginning of the Warsaw Ghetto Uprising of 1943, when Jewish resistance fighters defied the Nazis and fought for freedom and dignity.
Our annual Yom HaShoah Commemoration includes a procession of local survivors, a candle lighting ceremony to remember the six million Jews murdered in the Holocaust, a keynote address by a local speaker, a survivor's remarks, an invocation and message from a local rabbi, music, prayers, and the presenting of PHA's Annual Shofar Zachor Award for outstanding contributions to Holocaust and genocide education.  To see photos from our past Yom HaShoah programs please visit our Gallery page https://phxha.com/gallery/
Save the Date for Our Valley-Wide Yom HaShoah Commemoration 2023 on April 16, 2023 at Congregation Beth Israel. For more information visit: https://phxha.com/events/yom-hashoah-commemoration/
Remembering the Survivors
Since 2000, as a tribute to his father, whose family was murdered in Nazi concentration camps, artist Robert Sutz has focused his array of talents full-time to create life masks of Holocaust survivors and paintings of Holocaust scenes. His studio is in Scottsdale, AZ and he is an active member of PHA.
The works are not for sale. They are intended as an archive, and a way for future generations to connect with the faces of those who survived the atrocities of the past. 
The Holocaust was a profoundly tragic time in world history that resulted in the murder of six million Jews, of which an estimated 1.5 million were children.  Another five million human beings were also killed, including Roma-Sinti people ("Gypsies"), political dissidents, communists, intellectuals, Jehovah Witnesses, homosexuals, Poles, and people with mental and physical disabilities.
Most Holocaust survivors alive today are over the age of 80.  Local survivors' stories cover a wide range of backgrounds and Holocaust experiences.