Ksenia Coffman: Wikipedia and the Holocaust Sleuth
In November 2015, Ksenia Coffman discovered something amiss in a
Wikipedia article about a notorious Nazi and a Holocaust perpetrator. The
article drew an apologist picture of an SS death squad's commander who
happened to come up with the idea of mobile vans to gas Jews. It was
shocking and incomprehensible, as if in a parallel universe. Ms. Coffman
dug further into related Wikipedia articles, their sources and individual
footnotes. To her surprise and dismay, she found that misrepresentations
and glorification of Nazis abounded on Wikipedia. Recognizing this, Ms.
Coffman became a one-woman sleuth intent on reducing misinformation
related to the crimes of the Nazi regime. Ms. Coffman discusses her
work, on one of the most popular sites on the Internet, to correct
historical distortions about the Holocaust and the Second World War.
The Crate: The Story of War, A Murder, and Justice
Deborah Vadas Levison, an award-winning journalist, tells the extraordinary account of her parents' ordeals during the Holocaust, one of the darkest times in world history. Written in searing, lyrical prose, THE CRATE: A Story Of War, A Murder, And Justice examines man's seemingly limitless capacity for evil… but also, his capacity for good. RSVP Here for Event THE CRATE: A Story Of War, A Murder, And Justice 
Chanukah in Carefree "A Great Miracle happened: The Generation After the Holocaust"  
PHA vice president Janice Friebaum was the special guest speaker on the 4th Night, Wednesday, December 1st. "A Great Miracle happened: The Generation After the Holocaust" Janice Friebaum's father was a Holocaust survivor from Warsaw, Poland. Janice  shared her affecting story of growing up in the long shadows of trauma and loss, and how being the daughter of a Holocaust survivor has shaped her life.
Video courtesy of: Herbert Hitchon at An Eye On You Production
MY NAZI GRANDFATHER: A Mother's Dying Wish Becomes Her Daughter's Nightmare
Silvia Foti could not imagine that by making a deathbed promise to her mother her life would change after she would discover the truth about her Nazi grandfather.
The Descendants' Forum: The View from Warsaw-Jewish Life in Poland Today with Helise Lieberman
PHA is Honored to Host a Presentation with General Eder on Her Newest Book "The Girls Who Stepped Out of Line"
One man's crusade against Lithuania's distortion & revision of the murder of its Jewish citizens
Phillipe Sands discusses his book The Ratline, the story of Otto von Wächter's role in war crimes against the Jews in Poland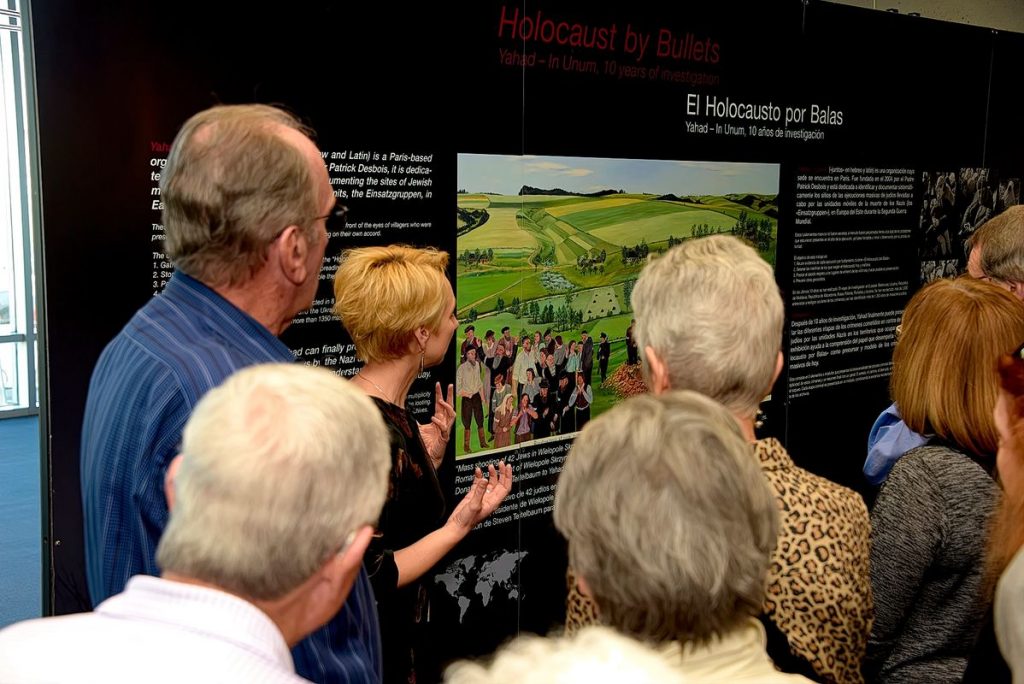 The Holocaust by Bullets exhibit will be on view at ASU from early March through the end of April 2022. Father Patrick Desbois will be the keynote speaker for Genocide Awareness Week on April 4, 2022, at 7:30 pm.  He will speak at the Memorial Union on the Tempe campus of Arizona State University. Please click here to see photos from our debut events in early 2020.

KAVOD is a nonprofit 501(c)3 Organization founded by John and Amy Israel Pregulman in 2015.  KAVOD provides Holocaust survivors emergency financial assistance as well as raises awareness about the unmet emergency needs of survivors in the US.  Recognizing the importance of reaching any Survivor regardless of where he or she lives, Seed the Dream Foundation partnered with KAVOD to establish the KAVOD Survivors of the Holocaust Emergency Fund (SHEF) in 2019. KAVOD SHEF exponentially multiplies the dollars and vital services directly reaching Survivors as well as increases awareness to this crisis. Leveraging the funds raised through a special philanthropic national matching initiative, KAVOD SHEF works with designated communities across the United States to bring millions of additional dollars to the Survivor community. John has also been photographing survivors since 2012 to honor their memory. During his most recent trip to Phoenix, he captured photos of Holocaust survivors living in the area. Please visit our Gallery below to view the photos of survivors.  For more information on KAVOD please visit https://kavodensuringdignity.com/