Love, Music, and Resiliency In The Shadow Of The Holocaust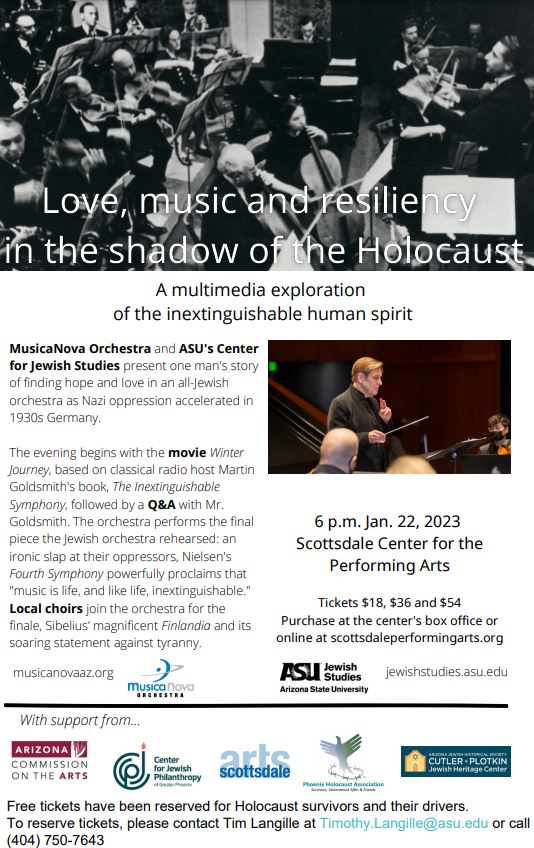 6 p.m. Jan. 22, 2023
Scottsdale Center for the
Performing Arts
Tickets $18, $36 and $54
Purchase at the center's box office or
online at scottsdaleperformingarts.org
MusicaNova Orchestra and ASU's Center
for Jewish Studies present one man's story
of finding hope and love in an all-Jewish
orchestra as Nazi oppression accelerated in
1930s Germany.
The evening begins with the movie Winter
Journey, based on classical radio host Martin
Goldsmith's book, The Inextinguishable
Symphony, followed by a Q&A with Mr.
Goldsmith. The orchestra performs the final
piece the Jewish orchestra rehearsed: an
ironic slap at their oppressors, Nielsen's
Fourth Symphony powerfully proclaims that
"music is life, and like life, inextinguishable."
Local choirs join the orchestra for the
finale, Sibelius' magnificent Finlandia and its
soaring statement against tyranny.
Free tickets have been reserved for Holocaust survivors and their drivers.
To reserve tickets, please contact Tim Langille at Timothy.Langille@asu.edu or call
(404) 750-7643