Living in Many Worlds
September 22 @ 10:00 am

-

12:00 pm

MST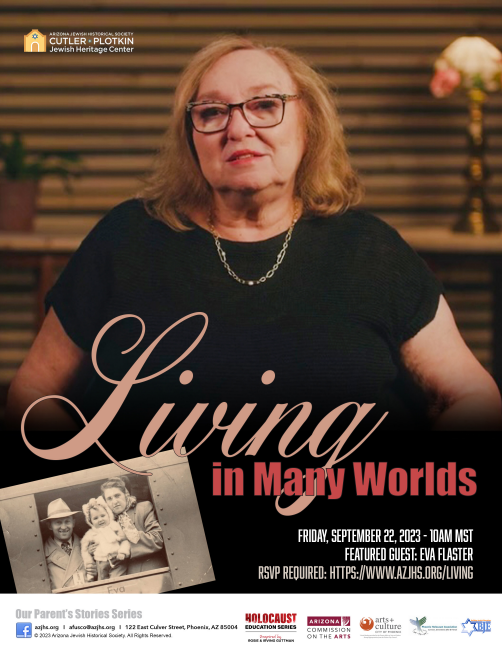 From our partner, Arizona Jewish Historical Society
Friday, September 22, 2023 at 10AM (MST)
SPEAKER: 2G and PHA Vice President Eva Flaster
Eva Flaster is the daughter of two Holocaust survivors. Her father, Chune
Flaster, was born in December of 1912 in Nowy Sacz, a city in the
Carpathian Mountains of Poland. He loved the mountains and enjoyed
the outdoors, skiing, and hiking. He lived at home with his mother and his
two siblings until he enlisted in the Polish Army. When the Germans
attacked, the Polish Army only lasted three weeks. The Poles disbanded,
and he moved eastwards and was captured by the Russians who
invaded Poland from the East. They sent him to a gulag in the frigid,
frigid north of Russia. The Russians released him in 1941and he fought
the Nazis for a second time.
Meanwhile, Eva's mom, Genia Nordon, was born in Sosnowiec
(Southwestern) Poland in 1924. She lived with her parents and three
siblings. She was four days shy of her fifteenth birthday when the war
began. The Nazis removed them from their home and forced them into a
less desirable apartment. Life was exceedingly difficult, and food was
scarce. Jews were no longer allowed to go to school. The family was
moved one more time in1942. This time to a sealed ghetto.
From 1939 to 1942, Genia often hid her star with a purse and tried to
barter for food for the family. In 1942, the Nazis captured her, and she
became a slave laborer in a chemical plant. In January of 1945, the
Nazis knew they were losing the war. They removed prisoners from the
camps and took them on the "death march" to erase all evidence of the
concentration camps. During the "death march," Genia tried to escape by
jumping from a moving train. The Nazis recaptured her, and she went
through a series of prisons, and eventually, she wound up in the small
fortress at Terezin.
Two years after the war, thanks to a family friend also living in the
American sector of Germany, Chune and Genia met each other. They
dated, got engaged and married in 1948. Eva was born the following
year in the same Displaced Persons' camp in Landsberg Am Lech.
Please join us on Sept. 22, when Eva will share more about her parents'
story and growing up as the child of survivors.
Registration: Arizona Jewish Historical Society — AZJHS Our Parent's Stories