Holding onto the Hate Let the Haters Win
February 24 @ 10:00 am

-

12:00 pm

MST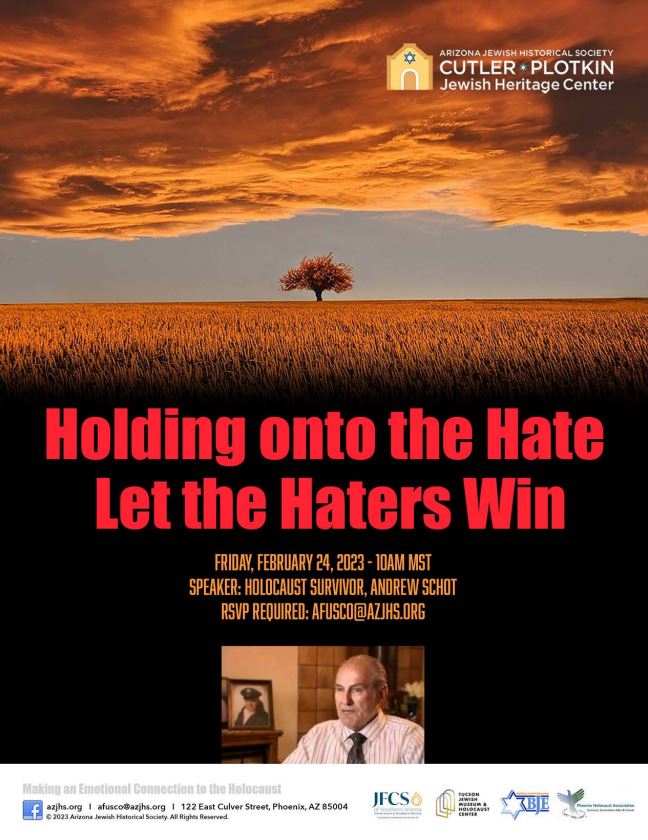 Friday, February 24, 2023, 10AM-12PM (MST)
Featured Guest: Holocaust Survivor, Andrew Schot
Andrew Schot was 9 years old in 1940 when the Germans invaded the Netherlands. He was almost two years younger than Anne Frank and about 5 years younger than her sister Margot.
Jewish students were banned from educational institutions, forced into smaller Jews only schools, this is where Andrew met Anne and through Anne, her sister Margot. While Andrew did not grow up in a Jewish home and was not considered a Jew according to Jewish Law (Andrew's father was Jewish, his mother was not), Andrew was labeled a full blooded Jew by the anti-Semitic Nuremberg Laws. He was forced to wear a yellow star and recalls a sign in a store window: "No Jews allowed when humans are on the premises".
His father, after receiving a relocation notice, went into hiding, returning to his home on weekends. He was caught and Andrew later found out he was taken to Bergen-Belsen. Andrew and his sister who was six years older, went into hiding, explaining to their mother that it would be better for all if they left. After surviving on the run for two years, careful to never stay in one place for more than a day, they were caught, loaded into trucks then cattle cars, separated from one another, Andrew's sister's train went to Dachau, Andrew's was destined for Bergen-Belsen.
After liberation Andrew made his way to the United States, where was drafted into the U.S. Army, later transferring to the Air Force where he served for 26 years. Andrew didn't tell anyone — including his wife and kids — about his own family's World War II tragedy until the mid 90s. Since then Andrew has spoken to countless students, adults, military, and every graduating class of the Tucson Police Department. Andrew shares the importance of speaking up against prejudice and greed, not forgetting but also not permitting hate to have a role in his life.
REGISTER: https://www.azjhs.org/holocaust-survivor-conversations